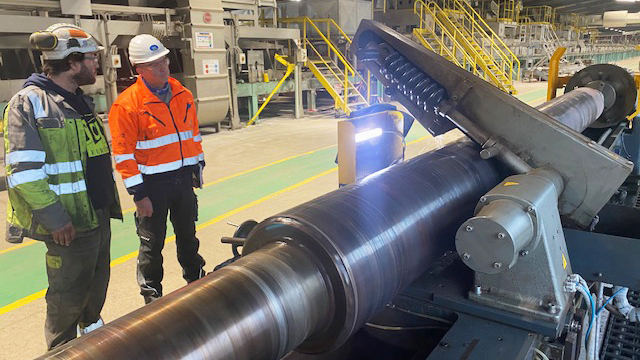 Polishing of mechanical drive rollers
TERMECA CHOQUENET, a European engineering company in the field of float and printed glass production, provides cold repairs and maintenance on existing lines all over the world.
Among the maintenance services offered to clients in the glass-making industry, TERMECA CHOQUENET carries out annealing lehr line roller polishing with the help of a subcontracted partner. "The machine we use, known as Polyrol, is 10 metres long, 1 metre wide and weighs 10 tonnes," explains Frédéric Desille – Managing Director. "Equipped with a closed-circuit water treatment system, it bears the CE mark, offering a full range of safety guarantees and an exceptional polishing quality (Ra < 1 )." After several years of use in an annealing lehr, or as a result of unexpected contamination, the rollers on which the glass passes along the line, can become clogged. During a cold shutdown, or sometimes even during production, the rollers need to be cleaned by deep polishing. In this context, "TERMECA CHOQUENET offers a complete service for its clients. Our Belgian subcontractor carries out the polishing itself, but we retain overall responsibility for the operations," says the Managing Director.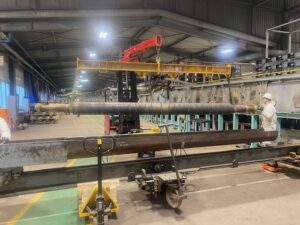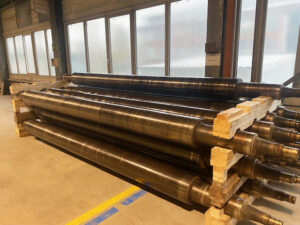 This maintenance is carried out in several stages: After the line has been shut down, a tray is placed under the annealing lehr driving mechanism so that the rollers can be removed from the tunnel. One by one, they are placed in the tray and taken out of the lehr. Then they are then moved to the immediate vicinity of the Polyrol. "They are stored on a bunker or cooled in rotation, before being stripped. The bearings are removed so that the rollers are exposed before being placed in the polishing machine." Clamped between two pins, the rollers rotate at a low speed. At the same time, an arm, equipped with a coarse-grained emery belt rotates and presses along the length of the roller. It moves forward slowly up to the end of the roller and then repeats the process. This double rotation gives a superior result. "After the first cycle, a finer-grained belt is put in place and the roller is polished for a second time," explains the Managing Director. "The machine can polish an average of 10 to 12 rollers per day." After they have been polished, the rollers are once again stored, before being re-assembled and placed back in the annealing lehr.
Since it was put into service two years ago, this roller polishing machine has already been used on four FLOAT lines in Europe. "This long and narrow machine can be easily transported over long distances by lorry or container. "This means that we will soon be able to provide this service overseas," concludes Frédéric Desille.